03. From corporate burnout, to helping stressed out women improve their lives
Episode Summary
Today we are talking to Fiona Hurle from Inspired Woman Institute. Fiona has done a complete 180 going from successful corporate career woman, to helping stressed out women get the best out of themselves and their lives (gosh – where do I sign up).
Proving that burnout in the corporate world can truly be the catalyst to create the life you are meant to live, Fiona is walking proof of that.
Today we are chatting all things corporate career and what happens when you give that up to pursue happiness and health.
And more importantly, doing the inner work on yourself to show up as a real, raw and unapologetic business owner.
Key Takeaways To Tune In For
Admitting to yourself that corporate world is making you unhealthy
Having the confidence to work on your inner self
There can be good debt and bad debt
Money mindset is everything
You need to work on yourself, before you can help others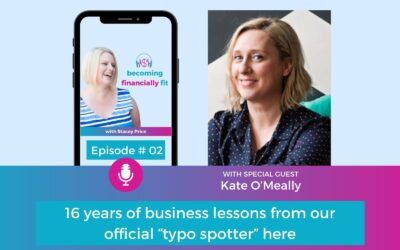 Today we are talking to Kate O'Meally from Oh My Word. Editor Copywriter, Business Mentor and someone who can spot a typo a mile away.
read more
Today is our launch episode, and before we interviewed other amazing business owners, I thought it was only fair to share my story. From redundancy to boss lady, and all the niggling self doubt feelings along the way.
read more